There are many ways for you to earn money from your blog if you know what to write about and how to write it in a way to meet the high demands of today's' market.
Having a blog is a great thing.
You can get paid for each blog post that you write, and then get paid in bulk if a company likes you and decides to outsource you as their primary blog writer. You can also post advertisements, and then get commissions for each time that your blog visitors click on your advertisements.
Plus you can get paid by the companies who want to use your blog as their own advertising posting site. This is the reason why the bloggers write often about a product, products or promotions. All of the mentioned ways have one common thing: you need to attract the visitors first.
To have visitors and audience your website or blog as many others need promotion and advertisement. Let's see now how this can happen.
Promoting your Blog
The blogs promotion can be tricky sometimes. Especially these days when the blogs and the bloggers are everywhere around, and the competition is high. Blogs containing various topics, pictures and sometimes they serve as mini magazines. But what if no one visits your blog to read all your articles, after all, efforts from your side, regardless of whether they are informative and useful or not?
Sure. Your blog needs a promotion.
 Promoting your blog by using e-mail Signature.
You can start with the blog promotion by creating or redesigning your e-mail (or email) signature, first.
Consider your e-mail signature as a promotional logo for your blog. A strong email signature is attention-getting and looks cool and professional. It's not flashy, but it's not bland either.
So how should you design your email signature?
First of all: you should keep to a very small number of lines, and avoid when possible the formatting of the text and inserting files that may make your email hard to read or/and difficult to load. Keep your email signature to three or four lines, when this is possible: your blog address, your name, and a description of your blog.
Why should you put your blog address out there?
You need people to see what your blog name and address is, instead of having to make them click on a "click here" or "see more" link that you intend to hyperlink into their browsers. You need your name as the author, of course, and you can include a quick description of your blog in order to tell your readers what they should expect.
These are some of the tips that you may want to take into account when you plan using your email signature for promoting your blog. Experiment and see which model will work for you. If you are able to use your email signature well, then you will be able to get more visitors to your blog.
Now imagine you've sent an e-mail to a number of people. It is possible to send an e-mail to thousands of people in just a single click of a button. If you link your signature to your blog all the recipients of your email will get as well the direct link to your blog. And this, as mentioned already will increase the traffic on your site.
Simple, isn't it?
With high traffic, you will have the chance for your blog to be successful. Apparently, it also depends on
what part of the posted information the visitors will find useful? The email signatures can range from one to a hundred number of words (don't ever do it), but they must be engaging and at the same time simple, so the readers will remember them and as a result to visit at least one of the links you have posted.
I wouldn't recommend using too many links in your signature, though. Below there are examples of email signatures that you can use as patterns. Take a look at the two examples shown here in order to get the idea what an email signature is :
and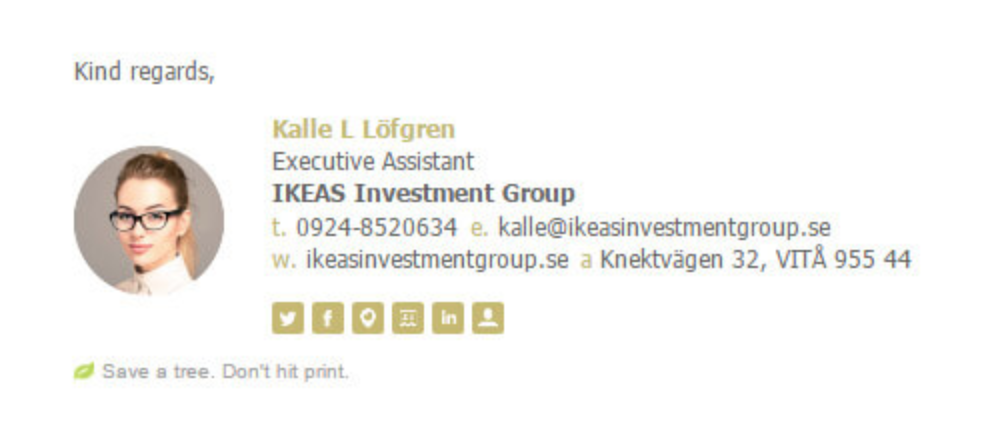 I'm sure you've seen similar signatures many times. Some of them look exactly like business cards.
If you can't remember-check your Junk e-mail box. Don't forget to include in your email signature information about your blog, i.e -its name or other links that you think will help it to achieve the maximum number of visits. The shown examples don't have it included as info, but this is the easiest way of promoting your blog by using email. Keep it all as short as possible, though.
Along with the advertising line for your blog, it's a very good idea to include links to your social media pages in your e-mail signatures, as shown in the examples. This reinforces your personal brand and also helps the people to find new ways to contact you or follow you. The third example is slightly different, compared with the other two:  
As you can see the promo link to the blog is included on the bottom and the e-mail is included but can be skipped. Why?
Do you remember who sent that e-mail? Actually, it's really convenient to have the contact e-mail as a part of the other info included in the e-mail signature. This is up to you. Adding a logo, or a slogan it's also up to your decision. I recommend to use the following pattern for your e-mail signature(s):
Your Name
Title (not always necessary), Company (with a link to website)
Your/Your company Phone number
E-mail
Logo/Slogan
Link-to-Your-Blog
Link(s) to the social sites
The proper email signature will help you a lot with the promotion of your blog, brand, and name, so don't underestimate its importance. If you like, you can use this link to see more examples of various e-mail signatures: Examples of email signatures on Pinterest
Promoting Your Blog on the online Forums
Another great opportunity for a blog/blogs promotion is online forums.
Most of them are free.
Also, they are interactive and all of them have users. Users that can be potentially your readers and fans in the future.
In forums, hundreds and thousands of people will be able to view some information about your blog, or a link to it.
They will be able to access it easily, read it and eventually to post a backlink to your blog on other websites. An easy-peasy promotion.
By the reactions of the various members of certain forums, you will be able to easily check if your blog is helpful or not. An important thing to mention-use only relevant, appropriate forums to promote your content. Always pick a forum and a topic or topics that have something to do with your blog. Only post the advertisement in a forum that is directly related to your blog. This is what the gurus call a TA (targeted audience). Target your audience, first.
You may think that this is common sense, but you need to know why it's the best practice for any blogger.
Many of the bloggers make the mistake of spamming different content in forums or other blogs in their efforts to spread sometimes not relevant info throughout the forum. This can be a costly mistake: you can alienate your potential readers, which works against your own potential. Since the existing in Internet forums are thousands I will recommend to use different forums, rather only one or two for promoting your blog.
The forums are a great way to not only meet people but get the word out on any kind of news. Some bloggers place their blog URL address in their signatures, or they place them directly in their posts as a link (sometimes as a slogan, or a motto) Help the people by posting useful for the content.
Put your blog address in your signature, but start out by helping people with their problems. If you allow the others to feel that they are important, they will be interested in you and in what you are doing.
And the other very important thing: spell well, check your grammar and look at your punctuation. This is part of your reputation as a person and as a blogger too. The proofreading is important because if you have a lot of typos or misspellings, it undermines your authority.
Would you trust someone who you normally don't know and who doesn't spell properly even simple words? I wouldn't.
Promoting Your Blogs on other blogs
Leaving a comment in other people blog can be a good option for the promotion of your own blog.
Many bloggers will post short comments like "Amazing post.", "Outstanding article!" and "Thank you" but in case you want to make a meaningful contribution to the conversation you have to say a bit more. Why the post is it so "Amazing"? There are some simple rules of courtesy when you're posting a comment on someone else's blog:
Provide a link to your blog just when is suitable to do so and after you leave a relevant comment. Don't be selfish or self-serving.
Leave your name or a just nickname even if the blog comments can be anonymous. The comments which are completely anonymous usually are not considered serious.
Leave meaningful blog comments. Show your knowledge, wisdom, and expertise but don't be tedious. Try not to provide excessive information, because this sometimes can be annoying.
Again-your comments must be relevant to the topic, even if you want just to say a simple "thank you" to the blogger, who created the blog or the article.
Don't be offensive. You can politely disagree with the post or its author, but don't be argumentative. Most of the blogs have a comment section for a reason, but be polite. You can be still very clear in saying that you only wish to express your opinion and nothing else.
Don't be a spammer. Leaving spam comments to promote your blog may seem tempting enough but it's best to avoid it. People hate spam and you'll be seen as unprofessional. Same for your blog. If you're posting a comment with the hope of driving traffic to your own blog, think very carefully before you include a link in your comment.
Be consistent. Leaving useful comments on other blogs regularly might lead to reciprocity, a factor that will help with your blog promotion. This kind of partnership and collaboration can be a benefit for both of you.
Here there are examples of nice blog comments, which are also utilized for promoting content:
Thank you for all the insight into social media etiquettes. It's quite helpful for me. I appreciate all of your efforts for sharing your thoughts. My opinion on this topic is…
This is a wonderful post that I shall link to on Twitter and my blog. I think that …..
Regards: Martha Louise
https://www.tumblr.com/blog/socialout
Hi, James
Thanks for this useful article that I can now tweet. I think it will help a lot of people like me in my journey to Internet Marketing. Have a wonderful holiday,
Kevin Rowland
http://websst.com
Thank you for your informative post, Karol.
I think there are a few things that you've missed, though. My opinion is that ………….I would like to invite you to come by and share your opinion about the article I posted in regards to Blogs and Blogs promoting: http://kilikanzer.skyrock.com
Kind regards:
Charles Preston
Excellent tips. This blog is such a useful source of information, as you have covered all theTips. 
Thanks for sharing your ideas on this topic. By the way, I use a company, which does very well in promoting blog posts. For more details check out the below link: https://www.taboola.com/
With all respect:
Clifford Howard
Promoting Your Blog by using the Blog Directories
One more way for you to make more people aware of your blog or post is to add your blog to blog directories. There are hundreds of different directories available, and you don't have to spend much time finding them. You are not limited or obliged to stick to a single blog directory.
Try placing yourself in about four or five of them, since there are readers and browsers that stay loyal to only one, single blog directory.
Certainly, you would like to use these which will allow you to gain visibility quickly and will help you to spread the word amongst more potential readers of your articles.
The most important part of this process is the planning of suitable keywords for introducing your blog(s) or article(s) to the blog directories. And just to give my two cents here: it is worth spending some time for thorough research on this topic. The relevant keywords are required when you register your blog site in a blog directory.
Make sure you don't put down random keywords in an effort to get your blog noticed anywhere and everywhere. You don't want to mislead and disappoint your potential visitors and readers with keywords that are popular, but not relevant to your shared content.
Promoting Your Blog on the Social Media
These days are the days of social media and social networks. Amongst all of the above-mentioned ways of promoting a blog, I prefer myself the last one, because social media is one of the most powerful tools available. Unfortunately, many of the content marketers fail to maximize their full potential.
Your task here will be to find which ones of the social media channels will be the most profitable for your cause.
But how many and what types of social media you should utilize?
My answer here is: as many types as you want and many as you can manage. I use the term "manage" for a reason. When you get started on social media you'll discover that you can't post enough on your blog to entertain. This can be easily achieved by using social media automation tools.
As a final
As you could see there are various ways to promote your website or blog on the Internet and to do it in a professional way in order to be successful. The way of how you build the name of your blog, site, brand or your online reputation is in your hands now.
I hope this short blog entry to be useful for you and your blogging experience. Keep in touch.